Florida Highpoint - Britton Hill - 345 ft
4 July 2005, 10:50 am. Highpoint #33.
On 4 July 2005, I made the drive to Lakewood Park, FL, and began the long, arduous ascent to the apex of the Britton Hill massif, the highest point in Florida. Thunderstorms (and mosquitoes) threatened, and I was weighed down with an oxygen cylinder, which I carried due to the low atmospheric pressure at such extreme altitudes. At an altitude of over 10500 cm, this peak is well into the 'death zone'. I persevered through hypoxic fatigue, and reached the high ground at 10:50 am. The summit area featured fine views to the east, of the lands far below. The very highest point seemed to be at the base of a tree to the left of the marker (facing from the parking area), and after an exploration of this area I soon reached the summit marker. A small building near the summit featured a display holding some newspaper articles about the peak, a faded trail map, the summit register, and bathrooms. There is a small hiking trail through the woods around the summit, with one trailhead just behind the summit monument. I set out on this trail, but soon the rain started pouring down. I didn't feel like getting soaked, so I retreated back to the summit, and started the descent back to the car.
This trip probably set my personal record for the largest driving to hiking time ratio.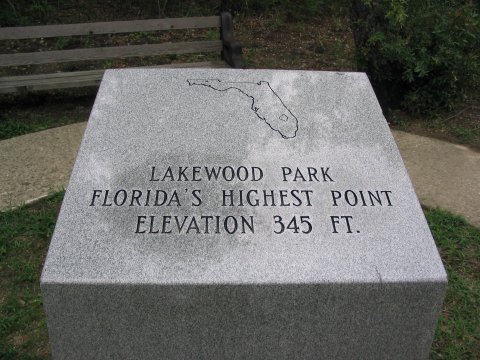 Summit marker.

I decided that the base of this tree was the highest point.

View towards the high ground. I thought that the high point was to the left and behind of the flagpole in this picture.
The official granite marker is to the right of the picture.

Views from near the summit.

Looking north on SR 285 from near the summit.

At the rarefied heights of the Britton Hill massif, oxygen bottles are recommended.
References
Highpoint Adventures, Charlie and Diane Winger, Colorado Mountain Club Press, 2002.
Highpoints of the United States, Don W. Holmes, University of Utah Press, 2000.
http://www.targotennisberg.org/highpoints/florida/
http://americasroof.com/fl.shtml