Arizona Highpoint - Humphreys Peak - 12633 ft
19 July 2005, 8:30 am. Highpoint #34.
Back to 2005 Californium Expedition
Our alarm woke us up at 3 am local time in the Motel 6 in Flagstaff. (It would have been 4 am if Arizona observed daylight savings time.) Tom Buckley and I then drove out to the Arizona Snowbowl, and parked at the trailhead for the normal route on Humphreys. By 4:35, we put on our headlamps and started up the trail, gradually switchbacking up to the east. After about 45 minutes there was enough light to continue without the headlamps, and we continued up the trail towards the saddle on the ridge between Humphreys Peak and Agassiz Peak. Just after 7 am, we reached the saddle at around 11750 ft, where we had some fine views on both sides.

Views from the saddle between Humphreys and Agassiz.

Looking north towards the summit from the saddle.
The trail then headed left, to the north, winding its way along the rocky ridge to the summit, which we reached at 8:30, with nobody else around. On top, we found a rock windbreak and the summit register, but not the wooden post that apparently used to be there. This post no longer seems to exist, but there are several smaller posts along the trail on the ridge, marking the trail to keep hikers on it and off the vulnerable tundra.
We had almost an hour to ourselves to bask in the nice views and pleasant temperatures. There were some bugs around, that made it a little tricky to eat lunch, but not too bad. One register entry reflected on the insects: "Came to munch on gnats. Not disappointed. Best gnat munching west of Tennessee. - Liz Pryde, Melbourne Australia." There wasn't a cloud in the sky while we lounged on top. After we had been on the summit for almost an hour, the first of several hikers started to arrive. Around twenty minutes later, we started back, passing plenty of others on the way down. We got to appreciate our fairly early start as we hiked down - clouds soon started to build, then we heard thunderclaps from around the peak above us, and rain started to come down. It wasn't heavy enough that I felt like putting on my rain jacket, but the rain did turn to light hail for the last few minutes before we returned to the car just after noon.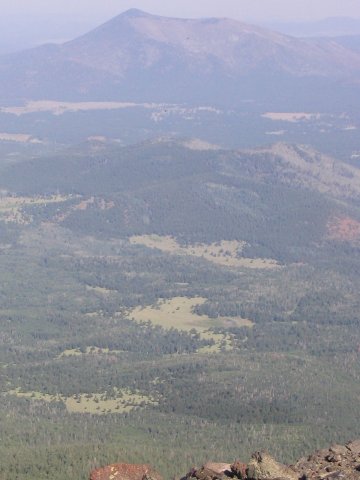 Summit views.

Tom and I (r to l) on the top, with Agassiz behind us.

Tom taking notes, with Agassiz behind.

The summit behind me (in space and time). Two other hikers are on the top.

As we returned to the car, we were taking rain and light hail, to the sound of thunderclaps from the peaks above.
References
Highpoint Adventures, Charlie and Diane Winger, Colorado Mountain Club Press, 2002.
Highpoints of the United States, Don W. Holmes, University of Utah Press, 2000.
http://www.summitpost.org/show/mountain_link.pl/mountain_id/59
http://americasroof.com/az.shtml
http://www.swlink.net/~ttidyman/journal/h960818.htm
http://www.azhikers.org/reports/humphreys2001.htm